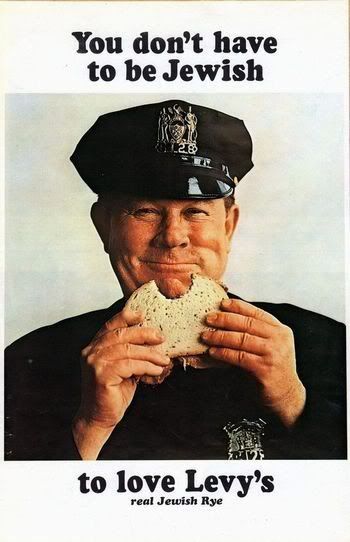 "You Don't Have to be Jewish..."
With a slight chuckle I wonder how many will open this diary with guns blazing thinking I have something to say about Israel. Ha but that is way over my head and this is all about nostalgia.  This is just a little off beat Big Apple history that I wrote for La Vita Locavore after reading a rye bread recipe.
I questioned the claim of rye bread being Jewish. Don't get me wrong, I'm not complaining. Jewish-Americans, especially one New York Jewish family deserve the claim to American rye bread for many reasons. Then I wrote that story that goes back to a beloved advertising campaign that had a very progressive side effect.  
After an enjoyable read of a Special Wednesday Edition of Sunday Bread- NY Rye I started thinking about just how such an Old World staple got identified as "good Jewish or New York style Rye." New York claims many foods that were not invented in the Big Apple but rye bread is really about as European as it gets.
Not only is rye the most popular type of bread in Finland, Estonia, Latvia, Lithuania, Denmark, Poland, Slovakia, and Russia, it has been a staple since long before the discovery of the Americas. In a bread timeline, dark rye even made it to the British Islands as early as 500 AD. "Since the Middle Ages, rye has been widely cultivated in Central and Eastern Europe, and is the main bread cereal in most areas east of the French-German border and north of Hungary." A year and two days ago I wrote a cute little diary called The Irish and Our Potatoes that mentioned the Holy Roman Empire being upset when those first Spanish explorers came back with starchy spuds to compete with the Staff of Life. By that time the "Body of Christ" being threatened by the lowly potato was mostly rye bread.
I remember a time when rye bread didn't seem the least bit Jewish. It didn't even seem like New York bread because I walked to either the French or the German Bakery, watched the fresh bread go through the automatic slicer and always ate both ends as I walked home. I remember when rye bread began an association with the Brooklyn Jewish community and it is a cute story, a progressive story even.
Rye bread going Jewish had much more to do with Madison Ave. than Flatbush Ave. It was and still is an advertisement. Rye bread is a New York City tourist attraction. The Stage Deli advertises their slogan next to a mile high fresser in the hotel magazines.
At the competition, the late great Leo Steiner, co-owner of the Carnegie Deli, the corned beef cornball comedian and the public face of Jewish food who was was eulogized by Henny Youngman as "the deli lama" and a man who "made New York taste good," appeared in one of the great New York nostalgia commercials. In that television commercial, from behind the Carnegie counter Leo Steiner sold Levi's Real Jewish Rye by saying in an accent that would make Jackie Mason jealous "It makes a nice samwich." Perhaps that is why Jackie Mason defected in the 7th Ave. Pastrami Feud.
This story of progressive advertising began long before the Carnegie vs. Stage wars, back in the days when Leo Steiner was still working in his parents' grocery store in Elizabeth, N.J. It was in 1961 when rye bread converted to Judaism.
"Levy's Real Jewish" wasn't really Jewish at all. It was the common thick breads baked on a stone hearths throughout Russia and the Balkans. The founder of the company Henry S. Levy, learned those skills in Russia and turned them into a New York family fortune. Levy's bakery that was located at 115 Thames Street was already a very successful family business even before being immortalized in advertising. Besides the Russian pumpernickel and rye breads, Levy's was a pioneer in "cheese breads" a golden-yellow loaf 25 percent of which was bleu and cheddar cheese. The family bakery even had a place in "A Tree Grows in Brooklyn."
Far more famous than the sour starter that dated back to and was kept alive since 1888 when Mr. Levy came to New York from Russia, the company was known for one of the most memorable print ads of all time. "In 1949 the small family-owned bakery in Brooklyn took on the services of Doyle Dane Bernbach (DDB), an agency destined to forge a creative revolution in advertising during the next two decades." The driving force behind the agency was a man named William Bernbach and a low budget print ad began taking hold with New Yorkers in 1961. "You Don't Have to be Jewish to Love Levy's."
Mr. Bernbach may even deserve the credit for making rye bread Jewish. Levy's did not become famous as "Levy's Real Jewish Rye." Before the great ad man convinced a management leery of anti-semantic behavior with the famous quote "For God's sake, your name is Levy's. They are not going to mistake you for high Episcopalian," the famous Brooklyn bread was called "Levy's Real Rye."
William (Bill) Bernbach was famous for so many ads including "Think Small" for Volkswagen Beetle, "We Try Harder" for Avis Car Rental and "Mikey" for Life Cereal. Of the many famous quotes he is remembered for "All of us who professionally use the mass media are the shapers of society. We can vulgarize that society. We can brutalize it. Or we can help lift it onto a higher level" sums up the "You don't have to be Jewish to love Levy's" campaign.
Some young people today may look at the angelic Japanese boy and the Native American above thinking "stereotype" and you would have a point. But these were different times. It was not the era of 'Everybody's a Little Racist' from Avenue Q but an era of most everybody being a lot racist, the era of "Carefully Taught." Stereotypes were common back then because that sort of presentation was acceptable. Another commercial of that era, that came out of the Ad Council and had great impact, showed a Native American in custom dress paddling down a polluted river in a canoe, then having garbage thrown at his feet by passing motorist and shedding a tear for what the white population has done to his land.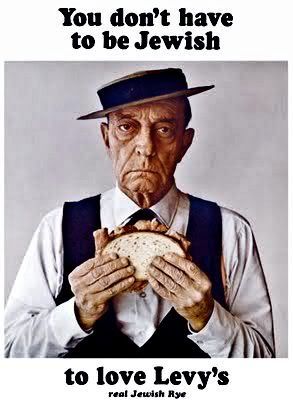 During the "You don't have to be Jewish" ad campaign that appeared on subways, buses and billboards, even "The Great Stone Face" Buster Keaton got into the act. The power of these ads were far from stone faced aliens but animated everyday New Yorkers. The power of those ads was changing people who were presented as different to fellow New Yorkers as not being so different.
When two workers at Bill Bernbach's agency Judy Protas and Bill Taubin began those ads New Yorkers already knew that you did not have to be Jewish to love rye bread but that was not what they were telling us. Notice that "real Jewish Rye" was always printed in smaller letters. The message that resonated was "You don't have to be Jewish to love Levy's."
While the print ads seem a bit schmaltzy now and the real goal was to get New Yorkers to trade in walking to the local bakery for fresh rye bread to picking up packaged rye at the supermarket, addressing antisemitism was not the only higher goal of a decade of subway ads. Presenting the happy faces of New Yorkers from many backgrounds, a generation raised to distrust people who looked and acted different had something to think about every day on the subway.
The visual of those many New York eyes, frozen but alive had another message besides the typography. A smiling Chinese-American with a crumb of Jewish rye bread on that mouth was saying to anyone who could listen "Look at me, I'm just like you." Looking back now I can't help but feel that that one Chinese-American face, captured by Howard Zieff, played a significant role in hearing the hateful phrase "Send them back to where they came from" less and less.
In choosing to "spread the good word" by capitalizing on a characteristic of New York City an advertising firm found a little magic that was far superior to political correctness because the effort changed thinking. That effort to expand sales of a packaged bread from Brooklyn created a public acceptance that went much further. Just like now New York was ethnically diverse but back then neighborhood boundaries, especially in the boroughs often kept unfamiliar people a mystery. A few unfamiliar smiles ended so many mysteries.
Forty-nine years have passed since that progressive ad campaign eased the tension in the great melting pot. Close to thirty-one years ago The New York Times printed "YOU don't have to be Jewish to mourn a bit over the passing of Levy's Real Jewish Rye Bread from Brooklyn, after 91 years, to Connecticut" and a Brooklyn family bakery was passed on to corporate America. Today with those good Brooklyn jobs long gone, the corporation that owns the license for that bread gets rated as "Compared to other companies, this company is one of the lowest rated on labor & human rights."
Back then, in those times progress was so obvious. Sure we had much further to go but we were going.
Now all these years later after so many years of conservative influence, progress is so much harder to find. But we can still find so many signs of progress in food issues, a place where the voice of consumers is often missed by government but heard by the entrepreneurs of today, people that are not much different from Henry S. Levy was when he got off the boat at Ellis island in the late 1800's.